Police hub to be located in Portsmouth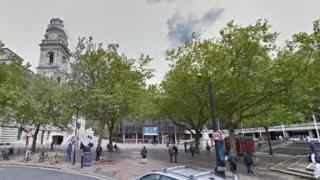 A planned police investigation centre for east Hampshire will be located in Portsmouth, the force's police and crime commissioner has said.
Simon Hayes said a site in Havant was considered for the Eastern Police Investigation Centre but it was too expensive and too far from the city.
Mr Hayes said a new location had been identified within Portsmouth but a two-site option was also being considered.
The centre would contain 36 cells and accommodate detectives and admin staff.
Mr Hayes said: "It was never our wish to have it outside the city. What's important is that it's a site we can afford.
"The site at Havant... is too expensive, it's the wrong location and it's not worth spending money on."
A separate public-facing office is due to open in Portsmouth's Guildhall Square before the end of the year after an £800,000 refurbishment.
Neighbourhood police officers and the response and patrol teams will be based there.
Nearly 400 people have signed a petition calling for the existing police station, next to the law courts, to remain open.
Mr Hayes said the new site being considered would enable the investigations centre to be located on a single site.
He said: "It's a site we have looked at previously. It's slightly more expensive than we wanted to pay.
"If that doesn't work, we will go back to having a two-site option in the city.
"We have been looking from the beginning for about 3.5 acres to build what we want to build. There are smaller plots of land and we can divide what we would otherwise have had in one building into two sites.
"That's not ideal, but it does cover the requirement of having the police investigation and custody in the city."