Son runs marathon on 13th anniversary of mother's killing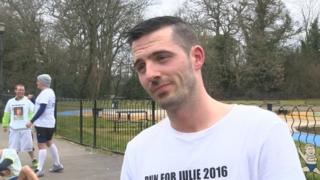 A man ran a marathon 13 years to the day after his mother was stabbed to death by her husband.
Warren Applegate ran from her house in Southsea to Southampton to raise money for a charity which supports victims of domestic abuse.
Mr Applegate, 29, said: "It was overwhelming turning up and seeing the support from everyone."
His mother, Julie Sheppard, was killed by Howard Woodin. He was jailed for life and died last year.
Mr Applegate was 15 years old at the time of his mother's death.
He returned to the house in Southsea one night to see police tape outside his home.
He said his mother was stabbed 27 times - 18 times with a knife that snapped and a further nine times with another knife pulled from a kitchen drawer.
The gas fitter said: "Over the years you just try to deal with the birthdays, Christmas, anniversaries of her death and try to deal with the situation as best you can.
"We are raising money for Southampton Women's Aid, which is in desperate need of funding.
"It needs £200,000 by the end of the year or it faces closure."
Mr Applegate has raised £1,669.
Sunday's marathon started at 09:30 GMT in Southsea and finished at the Cowherd's pub on Southampton Common just under five hours later.
Mr Applegate said: "The route was absolutely gruelling, so much pain… but whatever we put ourselves through that is nothing compared to what women and children suffer on a daily basis."
Southampton City Council said "Southampton Women's Aid is currently in receipt of grant funding from the council, which ends on 31 March 2016.
"It previously held a contract with the council, which ended on 31 October 2015."