Naval officer guilty of sexually assaulting woman while asleep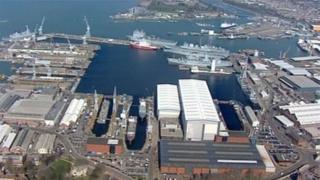 A married Royal Navy officer has been found guilty of sexually assaulting a woman who fell asleep on his bed after a night out while stationed in Oman.
Lieutenant Peter Coughlin, 34, had been drinking with the woman at a hotel before going back to the Musannah base.
The woman fell asleep in his cabin but woke to find she was being sexually assaulted.
Coughlin was convicted at a court martial at Portsmouth Naval Base and will be sentenced on 28 April.
Describing the incident which took place in March 2015, she said: "I couldn't really understand what had just occurred, I just burst into tears.
"I went to have a shower, I tried to process it. I should never, never have gone into his cabin."
The court was told Coughlin, who is based at the Air Warfare Centre in Boscombe Down, Wiltshire, had apologised to the woman but she told the hearing "there was no form of consent" and that "he thought he could just get away with it."