UK-France electricity link building plans revealed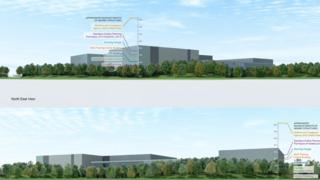 Plans for a power converter station on an airfield in Fareham that will link the electricity networks of the UK and France have been unveiled.
The National Grid wants to build the 22m (72ft) high building at Daedalus Airfield to join 120 miles (200km) of seabed cable between the two countries.
IFA2 is a £500m National Grid scheme which aims secure electricity supplies in the UK.
If it goes ahead work could start on the site in late 2017.
National grid said the electricity interconnector could be up and running by 2020.
Fareham Borough Council said it had agreed in principal to lease the land to the National Grid.
The plans for the scheme can be seen until 20 March.
The grid connection building in France will be at Tourbe in Normandy.
IFA2 is a joint project between French power transmission operator Réseau de Transport d'Electricité (RTE) and National Grid International Limited (NGIL), a subsidiary of National Grid.