Solent devolution deal 'expected in chancellor's Budget'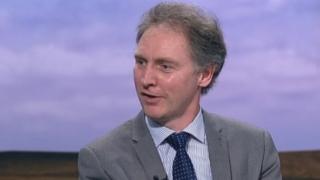 The leader of Southampton City Council says a deal has been agreed to create a combined authority for the south coast of England, led by an elected mayor.
Simon Letts said he expected the chancellor's Budget to include plans for a devolved Solent area, including Portsmouth and Southampton.
Gosport, Fareham, Isle of Wight, Eastleigh, Havant and East Hampshire are also part of the deal.
Hampshire County Council said it would not be involved in the proposals.
Portsmouth City Council leader, Conservative Donna Jones said the combined authority - a board consisting of the council leaders that would sit above the local authorities - would mean attracting a "substantial amount of money each year to spend on roads" for the region.
'Government shambles'
Speaking on the BBC's Sunday Politics, Labour's Mr Letts said negotiations were ongoing but added: "On one level, it's a government shambles. They've decided they've got a policy and they need to make some announcements to fit a deadline, which is the budget, and they've gone around shoehorning people into arrangements."
The county council, which serves part of the proposed area, said it was not prepared to confirm its involvement within the timescale set by government.
Its leader, Conservative Roy Perry said: "Regrettably, at virtually the last minute, government insisted no deal would be possible without a directly elected mayor at its head.
"Government's insistence has had the effect of splitting the county on the whole subject. That caused the Solent authorities to develop a separate proposal."
A Department for Communities and Local Government spokesman said: "The Government is determined to empower local areas through the devolution of powers and resources away from Whitehall.
"Ministers have been repeatedly clear this is a bottom-up process and we will pursue discussions with places at a pace that is right for them."
Devolution - the transfer of certain powers from central government - has already taken place in Greater Manchester, Cornwall and Sheffield.