Isle of Wight Shanklin derelict building fire evacuates homes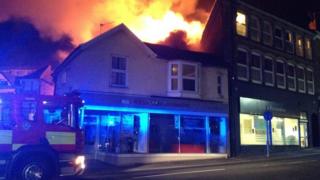 Several people were evacuated from their homes after a fire destroyed a derelict building in Shanklin on the Isle of Wight.
The blaze, on the corner of Shanklin High Street and Palmerston Road, started at about 22:30 GMT on Saturday.
Residents were evacuated from nearby flats but no-one was injured.
Police described the fire as "suspicious" and said an investigation was underway to establish the cause.
Frederick Fisher, from one of the flats, heard "what sounded like fireworks" and saw "flames shooting out of the first storey" of the building.