Popham air crash: Parents died after plane stalled and crashed into trees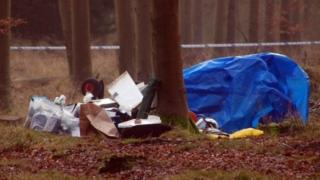 A married couple died after their light plane stalled and struck trees before hitting the ground, air accident investigators have said.
Sally Tonkinson, 44, and her husband Lewis Tonkinson, 50, who was flying, were killed when their Alpi Pioneer came down in Blackwood Forest, close to Popham airfield near Basingstoke.
Their six-year-old son survived the crash with serious injuries.
Investigators said poor weather conditions may have "precluded flight".
The couple, who lived in Cookhill, Worcestershire, were returning to Bidford airfield near Evesham after visiting friends in Cowes on the Isle of Wight on 3 January 2015.
The Air Accidents Investigation Branch (AAIB) identified a defect with the engine turbo (turbocharger) control, which it said "was likely to result in the engine seizing flight".
Poor weather
It added that low cloud and poor visibility may have also led to the crash.
The poor weather had discouraged other general flights at Popham and nearby airfields that day, the AAIB said.
A video recording showed the aircraft taking off from Bembridge at 15:00 GMT but it was later lost from sight in misty conditions.
A radio operator at Popham alerted the police at 15:34 GMT, as he was concerned for the aircraft's safety after it disappeared from view.
Investigators said the plane approached Popham Airfield and manoeuvred as if preparing to land, before continuing in a low level, left-hand circuit.
They said the aircraft then stalled and struck trees before hitting the ground at about 15:41 GMT.
The AAIB report made four safety recommendations relating to the plane and safety manual. It also said the Light Aircraft Association intended to conduct reviews into differences in training requirements for pilots operating aircraft with turbocharged engines.