Mother's plea to Southampton FC over disabled facilities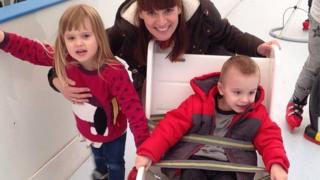 A Southampton football club fan says she is unable to take her five-year-old son to matches because the disabled toilets are not equipped for his needs.
Sarah Brisdion, whose son Hadley has cerebral palsy, has to lay him on the toilet floor because he is too heavy for the baby changing facilities.
She wants more venues to install hoists and changing benches.
Southampton FC said it was "actively looking into" improving disabled facilities.
Season ticket holders
Government regulations do not make providing such facilities a legal requirement.
Mrs Bridsion, from Brockenhurst, Hampshire, said: "Ten members of my family are season ticket holders; four of those have been holders since season tickets began.
"I used to be a season ticket holder until I had Erica and Hadley.
"Standard disabled toilets don't cater for many of the disabled population. Anyone who wears nappies, has a large wheelchair or needs hoisting to use a toilet or needs to be changed has nothing in there to cater from them.
"They are forced to either be dangerously lifted or to be changed on a dirty toilet floor."
Facility coming
After writing to Saints chairman Ralph Kreuger, the club told her it was "looking to install a Changing Places facility" but was "unable to action with immediate effect".
A subsequent statement from the club said: "The significant structural work required to create this facility to a high standard means that any work would need to take place in the close-season.
"In the meantime our supporter relations team have already offered an alternative solution to Mrs Brisdion and her son."
A full Changing Places bathroom takes up 12m sq (130 ft sq), and costs about £18,000, but campaigners say simply putting a static changing bench into wheelchair-accessible toilets would make a huge difference to many carers and people with disabilities.
Of the 20 Premier League football clubs, three have a Changing Places toilet. The first was Arsenal, followed by Manchester United and Liverpool.
The league said it was not mandatory for clubs to install the facilities but they were expected to work with the Accessible Stadia Guide "wherever reasonably possible".