Isle of Wight museum reopens a year after cuts closure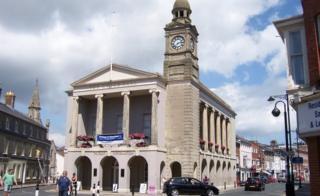 A museum about the Isle of Wight that shut nearly 12 months ago because of a lack of funding has reopened.
The Museum of Island History in Newport's Guildhall closed on 31 March 2015 after its owner, Isle of Wight Council, slashed its budget.
The island's tourist board, Visit Isle of Wight, is providing front-of-house services, allowing the museum to open.
Visit Isle of Wight had already opened the Tourist Information Centre at the front of the building in summer 2015.
The museum charts the history of the island from the time of the dinosaurs to the present day.
Isle of Wight tourism councillor Shirley Smart said: "This has been a long year with the museum closed to visitors but thanks to our partnership with Visit Isle of Wight, I welcome seeing the doors open again... and to have the historic Guildhall used to its potential again."