Southsea men 'throw abduction victim in sea'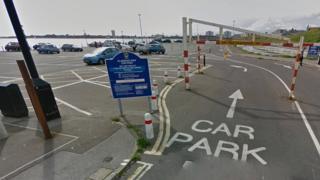 A man was thrown in the sea after being abducted from his home and driven to a cash machine, police said.
Three men attacked the victim, 59, in Beach Road then took him to St Catherine's Street to get the money.
But, he was unable to make a withdrawal and was driven to Clarence Esplanade before being thrown into the sea early last Sunday, Hampshire Police said.
The men were caught on CCTV at the Long Curtain Road car park, between 03:10 and 03:32 GMT.
The three men drove a three-door light grey Peugeot 206 car.
The victim received minor injuries during the abduction, police said.
All the suspects are described as being white with brown hair.
One was about 5ft 7ins tall, aged in his late 20s or early 30s, another was about 6ft 2ins tall and in his early 30s and the third was about 5ft 9ins tall and of stocky build.