Anthony Minghella celebrated with Ryde beach plaque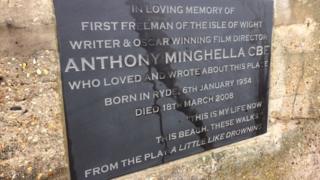 Oscar-winning director Anthony Minghella has been honoured with a plaque on the beach in his hometown.
The 54-year-old - best known for his film The English Patient - died in March 2008 from a haemorrhage following cancer surgery.
The seafront memorial was unveiled by close friend and actor, Jude Law.
Sister, Gioia Minghella, said: "We are so touched there is now this special place dedicated to him in Ryde where he was born and raised."
Minghella started his career in the seaside resort where his Italian parents set up an ice cream company.
The pier and beach became the setting for his play which later became his first film, A Little Like Drowning.
His later work included The English Patient - which won nine Oscars including best director in 1997 - The Talented Mr Ripley and Cold Mountain.
Minghella was made the first Freeman of the Isle of Wight in 1997 and a film festival was held on the island for three years in tribute to his life and work.
"We hope islanders and visitors alike will come here to look out to sea, recall his work - the words, stunning images and music that he left us - and to remember him, as we will, always, with love in our hearts," Ms Minghella added.