Hampshire care service put in special measures after 'neglect' findings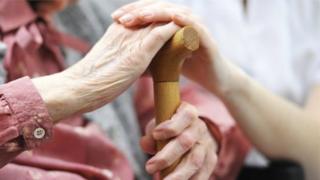 A care agency has been placed in special measures after a Care Quality Commission (CQC) inspection found patients were "not always protected from abuse and avoidable harm."
Zion Domicillary Care in North Camp, Farnborough, was rated as "inadequate" in every category in the CQC report.
The Hampshire service provides domiciliary care for people with learning disabilities, mental health conditions and dementia.
The inspection took place in November.
The report found one patient had been subject to "abuse through neglect" after care workers were four hours late to a scheduled visit.
During this time, the patient had suffered a stroke and collapsed.
'Missed visits'
The report added: "Although it was not possible to identify when this had occurred, if staff had arrived at the scheduled time this may have prevented the person falling or ensured they received emergency treatment as soon as possible."
Failure to ensure sufficient numbers of suitable staff also led to numerous missed and mistimed visits, the report found.
It added that staff were insufficiently trained and patients were not treated with dignity and respect.
One person told inspectors: "Some staff do not know what they are doing. They ask me what to do and I have to show them. That can't be right."
The CQC said the service was under review and would be inspected again within six months.
Zion Domicillary Care is yet to comment.