Hampshire fire service cuts to save £4.1m approved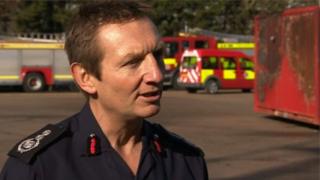 A plan that will lead to the loss of 200 firefighter jobs at Hampshire Fire and Rescue Service has been approved.
The proposal, which will also see the number of full-sized fire engines reduced from 76 to 25, was given the go-ahead by the county's Fire Authority at a meeting in Eastleigh earlier.
Last year, plans to save £5m by 2020 and cut more than 300 posts were announced in a bid to tackle a £12m deficit.
But cuts were later decreased to £4.1m.
'More effective service'
The original plans would have seen 86 full-time firefighters and 225 retained staff - firefighters who only respond to emergency calls - lose their jobs.
But now 60 full-time and 152 retained posts are expected to be lost.
Changes to the service, which will also see new working techniques and new technology introduced, will begin in April.
Chief fire officer Dave Curry said: "At the heart of these changes remains our commitment to keeping the residents of Hampshire and our firefighters safe.
"We will now embark on three years of implementation as we create a smarter, more efficient and more effective service for the residents of Hampshire."
---
What the cuts mean:
At least 60 full-time firefighters and 152 retained staff are expected to lose their jobs
Hampshire Fire and Rescue will be left with 507 retained firefighters and 516 full-time staff
The number of full-size fire engines will be reduced from 76 to 25
The fire engines will be replaced by 50 "intermediate and first response" vehicles, which can be manned by only two crew
Three towns and a city - Andover, Gosport, Havant and Winchester - will retain full-time overnight fire cover
---