New Forest dog attack on deer prompts warning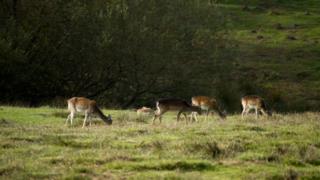 Dog owners have been urged to keep their pets under control after a deer was "savagely attacked" by a dog in the New Forest.
The fallow deer had to be put down after it was chased and savaged near Matley car park on Thursday.
Park keepers said the attack was witnessed by several families visiting the forest during half-term.
The dog's owner was issued with a dog behaviour contract by New Forest District Council.
'Unhappy ending'
Three other reports of wildlife and livestock being harassed at the park were received by the Forestry Commission last week.
It urged dog owners to keep their pets on leads when walking in the forest.
Park keeper Patrick Cook said: "Sadly, deer attacked by dogs usually results in a very unhappy ending, as was the case with this poor animal.
"As a dog owner myself, I know what they are capable of, but I urge people to please keep their pets under control and well-trained or, better still, keep them on a lead if you cannot entirely trust them."
The Forestry Commission said it was working with a variety of organisations to tackle this issue.