Macaulay Campbell, 20, dies in two-car collision near Southampton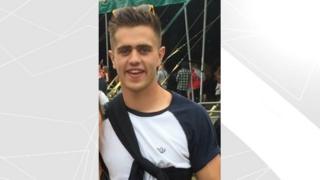 A 20-year-old man who died in a two-car crash near Southampton had been man of the match for his rugby team earlier in the day, his family has said.
Macaulay Campbell, known as Mac, was driving a Volkswagen Lupo which collided with a BMW on the A3057 between Nursling and Romsey late on Saturday evening.
He was pronounced dead the scene.
A family statement said he was "a truly loving and active young man in the prime of his life."
The male driver and female passenger of the BMW 520 were taken to hospital with non-life-threatening injuries. Police have appealed for witnesses.
Mr Campbell's family said he had won a match playing for Romsey Rugby Club earlier on Saturday.
"He enjoyed his work as an apprentice fitter with Sparkes of Totton and he loved his sport, especially rugby," a statement said.
Romsey Rugby Club issued a statement which described him as a "bright and loved Romsey star".
"He was an excellent player and a great guy around the club," it added.