Emu's daring escape causes traffic jam near Eastleigh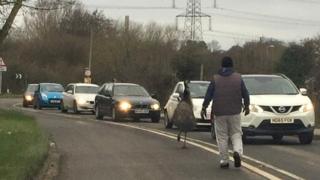 Rush-hour drivers were held up when an emu blocked a road after making a daring escape from its enclosure.
The bird is thought to have broken free from Highbridge Farm on Highbridge Road, near Eastleigh, Hampshire, at about 08:30 GMT.
Megan Strange, who was driving to work, snapped the emu as it ran among the cars.
A man ran after the bird and managed to catch it with the assistance of another driver and return it to its home.
'Everyone was laughing'
Miss Strange, who works at the University of Southampton Science Park, said: "I was driving to my job as per usual and noticed there was a lot of traffic.
"Then I saw there was a big emu just running around."
According to the PR events executive, a man running after the emu could not corral it back into its enclosure.
She said: "Everybody was just laughing, it's an odd sight to see."
Miss Strange added that a female driver helped the man get the emu back on the farm before she drove off.