APL Vanda leaves Southampton dock after power failure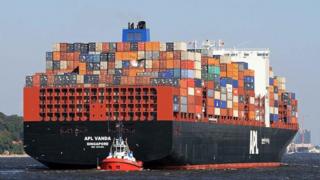 A 150,000-tonne ship that had to be grounded in the Solent after it lost power on Saturday has left Southampton dock for Hamburg.
DP World Southampton, which operates container terminals at the port, said the APL Vanda was being accompanied by three tugs as a precaution.
On Saturday eight tugs helped the 369m-long (1,210ft) ship after a "controlled grounding" at Bramble Bank.
No damage or pollution was reported following the grounding.
After returning to Southampton, the vessel had initially been expected to leave for Germany at 17:20 after precautionary checks but was delayed to allow divers to check for damage to the hull.
The incident comes 13 months after the Hoegh Osaka was run aground on Bramble Bank last year.
It was carrying more than £60m worth of Jaguar Land Rover, Hyundai and Mini cars, as well as JCB vehicles.