Ex-teacher Tyrone Mark jailed over indecent images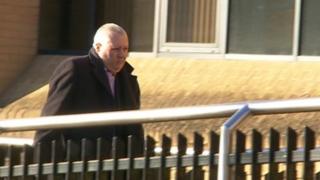 A former school teacher has been jailed for making indecent images of children.
Tyrone Mark, 40, from Caerphilly, was caught with 185 videos and images on his phone and laptop - some of which ranked among the most serious category of indecent material.
He previously taught at Arnewood School in New Milton, Hampshire, but was sacked after a separate investigation into inappropriate behaviour.
Mark, who had pleaded guilty to the charge, was jailed for six months.
'Repulsive pictures'
Before the offences took place, the former geography teacher had been banned from the classroom for life after forming an inappropriate relationship with a pupil.
A disciplinary panel heard he gave the pupil alcohol, condoms and a key to his house.
During a police investigation which followed, detectives found the catalogue of images at his home in Wales.
Judge Peter Henry said the images were "repulsive".
In a statement, Arnewood School said: "The school has acted with propriety, in good faith and on expert advice throughout."
Last year, former head teacher Chris Hummerstone was found to have acted appropriately by the National College for Teaching Leadership after a complaint from a parent about his handling of the matter.