Hampshire police name 'should include Isle of Wight'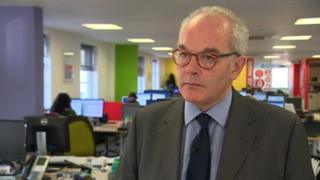 The police and crime commissioner for Hampshire says he is in talks with the Home Office about changing the name of the force to include the Isle of Wight.
A new bill being heard in Parliament would give the government the ability to change the name of a police force.
Simon Hayes says Hampshire Constabulary is an anomaly because its name does not reflect both of the counties it serves.
Hampshire Police Federation chairman John Apter said the money needed would be better spent on policing.
Mr Hayes said: "It's not about rebranding or spending a lot of money on logos, it's about including the name Isle of Wight in the legal name of the constabulary that polices them."
Under the Policing and Crime Bill, the Home Secretary would have the ability to change the name of a police force, although any change would be scrutinised for value for money and local support.
'Losing officers'
Mr Hayes said he did not know how much a name change could cost.
Mr Apter said: "In the current climate - we are losing officer numbers and we are combating terrorism and cybercrime - it's not at the top of the list of our priorities but I do understand it's got to be raised.
"I'd be getting more boots on the ground. We are desperately short of police officers and we are desperately short of detectives and that's where my priority would be."
Hampshire Constabulary has had a number of names, including Hampshire Joint Police Force when it merged with Isle of Wight and Winchester City Police.
In 1957, the name changed to Hampshire and Isle of Wight Constabulary but, in 1967, when it amalgamated with the city forces of Southampton and Portsmouth, it became Hampshire Constabulary.
Elections for the police and crime commissioner will take place in May.