Log-jammed dog 'barked up wrong tree' in New Forest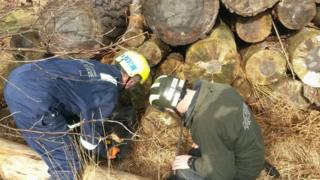 An inquisitive dog had to be rescued with the help of a tractor after it got stuck underneath a large stack of logs.
The hapless hound, called Bernie, became trapped at the Hawkhill Inclosure in Hampshire's New Forest.
But with the assistance of the Forestry Commission's tractor, seven-year-old Bernie was eventually freed unharmed and returned to his owner.
Firefighters who attended the scene, near Beaulieu, on Thursday afternoon said he had "barked up the wrong tree".
A fire service spokeswoman said: "Crews from Lyndhurst and an animal rescue specialist rescued Bernie... who was returned to his owner completely unharmed."