Accused gynaecologist Ioannis Douridas hanged himself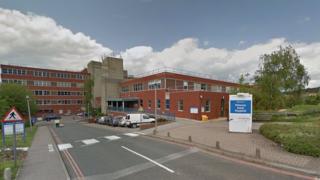 A gynaecologist hanged himself after being accused of having an affair with a married midwife, a coroner's court has heard.
Southampton coroner Grahame Short ruled that Ioannis Douridas killed himself following the allegation of "inappropriate behaviour".
It was made against him at the Princess Anne Hospital in Southampton.
Dr Douridas, 38, from Athens, feared it would destroy his reputation and end his career, Mr Short said.
After visiting his family in Greece and telling his sister about the affair, Dr Douridas, who was not married, returned to the UK where a colleague informed him about the allegation.
Mr Short said he then sent a text message to another colleague who cautioned him about "getting too close to the midwives he was working alongside".
Dr Douridas was "clearly very agitated and regarded the matter as serious".
'Well-liked team member'
On 24 August he texted work saying he was unwell and would not be coming in.
He was later found dead at his Southampton flat.
Mr Short said: "I believe he feared disciplinary proceedings, a loss of reputation and the possibility of being dismissed, possibly ending his career which he had worked on for so long to progress.
"I do not know whether any of those allegations are true, or what the consequences might have been, and I make no judgment in that regard.
"This was a sad loss for his professional colleagues but also for his patients using the Princess Anne Hospital, but more importantly it was a tragic loss for his family."
The University Hospital Southampton NHS Foundation Trust called Dr Douridas a "well-liked, conscientious and valued member of our obstetrics and gynaecology team and all of his colleagues were deeply saddened by his tragic death".