Hampshire Police in discrimination payout to demoted mum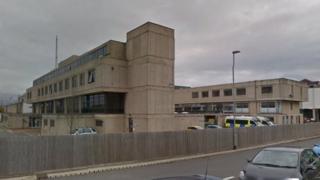 A police officer who had her promotion taken away when she asked for flexible working hours has been awarded more than £11,000 in compensation.
Mother-of-two Hayley Burden made the request because she was unable to provide childcare after being posted more than an hour's commute from home.
She was told she would have effectively "withdrawn from the promotion process" if she did not accept the posting.
A tribunal ruled Hampshire Police had been "indirectly discriminatory".
The force was ordered to reinstate Mrs Burdon to the rank of sergeant.
Mrs Burden, whose husband is also a police officer, was promoted to the rank of sergeant by Hampshire Constabulary in 2013.
Injury to feelings
The tribunal in Southampton heard the 46-year-old had asked to work flexibly after she was posted to Aldershot because she was unable to provide childcare from 05:30 to enable her to begin work at 07:00.
The judgement said Hampshire Constabulary had been "indirectly discriminatory because the claimant was unable to take up the posting because of her primary child care responsibilities".
Mrs Burden said she suffered anxiety and depression because of how she had been treated.
She said: "This whole affair has had a big impact on my home life so I am delighted that the judgment was in my favour.
"Now I hope I can move forward and get on with my career. I just hope this never happens to anybody else."
Hampshire Constabulary was ordered to pay Mrs Burden £11,621 for injury to feelings, aggravated damages, loss of earnings and loss of pension plus interest. It was also ordered to pay her £1,200 tribunal fee.