Millbank House: Cables not updated in high-rise block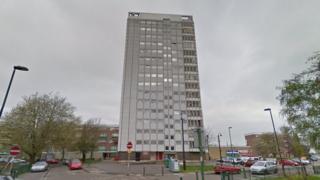 Recommended wiring changes had not been made in a block where a fire gutted a flat on Saturday, Southampton City Council has confirmed.
Regulation changes to cable supports were made after the deaths of two firefighters who became entangled while tackling a high-rise fire in 2010.
In a joint statement with Southampton City Council, Hampshire Fire and Rescue confirmed that cables had fallen from the ceiling inside the flat.
No-one was injured in the fire.
The blaze in Millbank House took three hours to extinguish and almost completely destroyed a family's home on the ninth floor.
While not compulsory, retrospective cabling changes in some but not all blocks have been made, Southampton City Council confirmed.
"Shirley Towers, Albion Towers and Sturminster House, the scissor blocks where the original incident happened, have been done, and that was our priority," Councillor Simon Letts, leader of Southampton City Council said.
"If the fire brigade come forward and tell us we should do the same at all of our blocks, we will have to give that some due consideration."
Following an inquest into the firefighters' deaths in 2013, a change was recommended by coroner Keith Wiseman requiring electrical cables to be mounted in metal trunking instead of plastic.
Firefighters James Shears and Alan Bannon died while attending a call out to a fire in Shirley Towers, Southampton, in April, 2010.
Mr Shears and Mr Bannon had become entangled in cables that had fallen from the ceiling as they battled the blaze.
Gary Jackson, secretary of Hampshire Fire Brigades Union, said: "There are still tower blocks in the city that this is affecting.
"I wonder if the council are that interested in firefighter safety or whether budget constraints mean they haven't got the money they need."