Isle of Wight Ryde Arena reopens after storm damage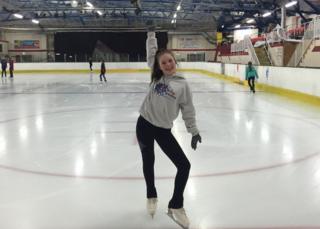 The Isle of Wight's only ice rink has reopened thanks to donations after part of its roof was ripped off in a storm.
The Ryde Arena was also set to close last year because it was making a loss, but was rescued when a community group took over.
It was declared unsafe in November after storms caused severe damage and flooding.
Arena spokeswoman Nici Delap said: "We now have a watertight roof, a clean and dry arena."
The rink is home to Wightlink Raiders Ice Hockey Team and is used by a number of figure skaters.
The nearest rink is on the mainland at Gosport 24 miles away - a 1 hour 40 minute journey via ferry.
Campaigners formed the Ryde Arena Trust in April 2015 and negotiated a new lease with investment company AEW.
But then a huge storm on 21 November caused damage worth £40,000 and Environmental Health officers declared the arena unfit for public access.
The trust raised tens of thousands of pounds and was able to let in the public for the first time earlier to watch an ice hockey game.
Mrs Delap said: "Through it all, the staff and volunteers made up of club parents, the general public and fans of the Wightlink Raiders, have been amazing.
"They have rallied round, all working towards the end goal of getting the customers back in as soon as possible."
She added more repairs were needed but that the trust hoped "to open for public skating by Easter".