Fawley Power Station set for housing plan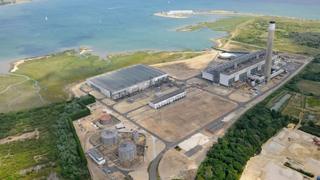 More than 1,000 homes could be built on the site of a disused power station site near Southampton following its sale to a developer.
Land Registry documents show London-based Long Harbour bought the 300-acre Fawley Power Station site for £25m.
The financial group said it planned to build homes and a marina on the site on the edge of the New Forest.
The oil-fired power station was decommissioned in 2013 after operating for more than 40 years.
A Long Harbour statement said: "Working with Fawley Waterside Management Company, Long Harbour has begun works towards achieving outline planning consent for a mixed-use development including over 1,000 residential units, commercial space and an active leisure marina."
Fawley Power Station
1971
Commissioned on the western shore of Southampton Water
2,000 megawatt oil-fired power station fuelled by nearby Esso refinery

198 metre-high chimney dominates the Solent sykline

1,100 miles of cable were laid within the power station

One million homes were powered by Fawley
RWE npower shut down Fawley, along with Didcot A in Oxfordshire, to comply with an EU directive aimed at reducing pollution and carbon emissions.
The 300-acre site includes the power station buildings, 125 acres of land and 30 acres of seabed.
Marchwood parish councillor Richard Young welcomed the sale but raised concerns about extra traffic using the A326.
"I consider that this is a good use of this area and will contribute enormously to the tens of thousands of new homes projected to be required... as well as providing a fair number of jobs for local people.
"With at least 1,000 extra vehicle movements every day the impact on Marchwood from people travelling to/from this proposed development is starkly obvious," he said.
In a joint statement, New Forest National Park Authority (NPA) and New Forest District Council said: "We are aware that the redundant power station site has changed hands and that the new owners are drawing up plans for the future.
"We will consider their future proposals through the review of our Local Plan policies and this work is currently under way."