National Motor Museum's £100k road safety exhibition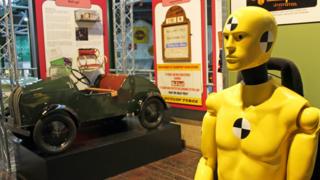 A museum known for its collection of historical cars has opened a £100,000 exhibition on the history of road safety.
The National Motor Museum features a talking crash test dummy and explores issues from seat belts to improved visibility.
The site at Beaulieu, Hampshire also displays cars with pioneering automotive designs.
Driving Change received part of the funding from the government.
The 1960 Austin A40 Farina Countryman was the first small modern hatchback, which offered a better surrounding view and was easier to park.
The Crossley Burney Streamline marked a "huge advance" in automotive design for its rear-engine, which increased traction on loose surfaces by having the engine located over the driven wheels.
Visitors can also learn about the early four-wheel-drive vehicles with the wartime Willys Jeep and one of the earliest Land Rover prototypes.
The museum's director of collections Andrea Bishop said: "Driving Change takes a look at the history of developments to help tell the story of the future.
"Topics explored include vehicle design, engineering, materials, alternative propulsion, safety and car crime - considering issues which affect motorists today, yet have roots in motoring history."
The display received £98,590 from the Department for Culture, Media & Sport and the Wolfson Museums & Galleries Improvement Fund.
For the launch of Driving Change, TV historian Dan Snow will officially open the exhibition via live broadcasting app Periscope from 18:00 GMT.