Isle of Wight countryside management moves to charity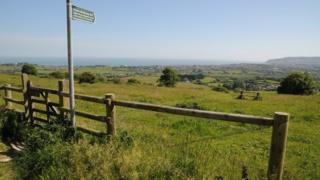 The management of popular Isle of Wight beauty spots has been transferred to a charity as part of council budget-saving measures.
The council agreed in January 2015 to hand its countryside management service to an external body.
Island 2000 has been given responsibility for maintaining sites including Brading Down and Golden Hill.
The charity's Graham Biss said it would be "significant financial undertaking" for the organisation.
The 20-year "partnership agreement" sees the responsibility for maintaining a total of 170 hectares of countryside transferred to Island 2000, with the council retaining ownership of the land.
Mr Biss said: "It will be a challenge to maintain the land to a standard required for open access and for people to enjoy the natural environment.
"With community support we can step forward and sustain a level of investment with this new approach."
He said the portfolio of sites would cost the charity an estimated £100,000 a year to run, which would be met through public fundraising and grant applications, including from sources not available to the local authority.
"Its success will be down to what the community wants - if these sites are to be retained we need the community to get behind us - both financially and from a volunteering point of view."
Paul Fuller, of the council, said: "This enables our council to not only reduce its spending, but at the same time ensure our countryside is safeguarded for public use."
The council insisted there would be no job losses. Two council staff have moved on to the charity's books.