Isle of Wight blaze: industrial estate businesses could reopen 'in a week'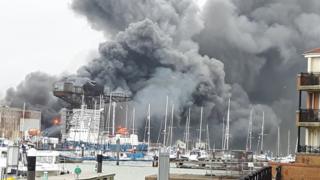 The owners of an Isle of Wight industrial estate devastated by fire have said they hope some businesses could reopen next week.
Classic ships and racing yachts were destroyed in the major fire which broke out in a car workshop at Medina Village on Monday afternoon.
An investigation has found the blaze started accidentally.
Owners, the Harrison Trust, said there was a "substantial clean up operation" needed.
"Whilst there has been a lot of valuable property lost, the trust hopes to see businesses back on site as early as next week
"There are serious concerns over loose panelling and damaged structures, which have necessitated the temporary closure of Medina Village."
Red Funnel ferry services and the Cowes Chain Ferry were suspended on Monday when thick black smoke billowed over the town.
'Serious hard work'
The blaze at its height was being tackled by more than 50 firefighters.
About 150 people work on the estate, which has a total of about 40 units.
Vintage boats undergoing restoration, including a Dunkirk "Little Ship" and a 1902 Gaff Cutter, were destroyed in the blaze, as well as a fleet of racing yachts.
Organisers of the Cowes Carnival charity, which stages processions throughout the island during the summer months, said new floats built to mark its 120th anniversary had been destroyed in the blaze.
The group said it had already been offered new warehouse premises.
"It will be serious hard work for all our committee but we are determined there will be a carnival this year and a new Cowes Float will lead our processions," it posted on Facebook.