Basingstoke Town football stadium plans refused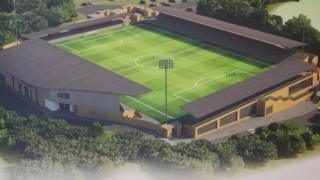 A £10m football stadium will not be built after councillors refused planning permission.
Non-league Basingstoke Town FC (BTFC) wanted to build the 5,000-capacity ground and training facility at the town's Old Common.
Basingstoke and Deane Borough Council said while there were benefits to the stadium, it had become clear the common was well-used.
The club said the rejection was "very disappointing".
Opponents who had raised concerns about the loss of open space and the effect on wildlife staged a protest earlier this month.
Councillor John Izett said although there were "potentially very significant community benefits in having a football stadium on Old Common", a public consultation on the plans had made it clear there was a "lot of use" of the land.
'No available land'
Chief executive and company secretary of the National League South side, David Knight, said: "The process started 10 years ago and really has been more to the fore in the last three to four years.
"It's a very disappointing decision, not just for the club but for the town as a whole."
Club chairman Rafi Razzak said: "I am extremely disappointed at the decision, having spent so many years believing the council wanted this to happen and working alongside us to achieve what we thought were joint aims."
During the debate on Tuesday evening, 33 people spoke to present their views.
After considering three options, the authority's cabinet voted to "advise BTFC that there is no available or appropriate land in the council's ownership for relocation of the stadium and bring a halt to the current consideration of Old Common, whilst confirming support for BTFC at its current location".
The current Basingstoke Town stadium, The Camrose, is in Western Way.