Severed pig head attached to Portsmouth Islamic school gate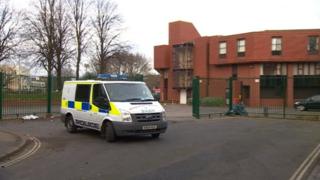 A severed pig's head was found attached to the gates of an Islamic school in Portsmouth.
The head was discovered cable-tied outside the Madani Academy in Nuffield Place at 08:30 GMT.
Hampshire police said they were investigating the incident as a hate crime and were treating it "very seriously".
Head teacher Muhammad Luthfur Rahman described the sight as "very upsetting".
He added: "We've always found Portsmouth to be a very welcoming city and we hope this does not damage the good relationship that we have with the local community."
The pig's head is especially offensive to Muslims, as Islam considers pigs and consumption of pork to be unclean.
Flick Drummond, the MP for Portsmouth South, called it a "horrible and deeply insulting incident that has upset children, parents and staff at the school".
She said: "It is completely unacceptable behaviour in a civilised society and it does not reflect the views of the vast majority of Portsmouth residents, who I'm sure are as equally appalled as I am.
"I hope the police find the culprit as soon as possible, and I ask anyone who might know something about this to call officers as soon as possible."
It is believed the head was tied to the gates between 17:40 and 18:00 on Wednesday.
Supt Will Schofield said: "[We] will do all we can to catch those responsible.
"I would urge anyone with any information about this incident to come forward as soon as possible.
"While our investigation is in its early stages, at this moment we believe it is an isolated incident.
"We will not tolerate such incidents in Portsmouth that seek to damage the good relations we have with all sections of our diverse community."
The independent faith school opened in 2014 and teaches pupils from five to eight-years-old.