Hampshire police's recorded crime levels have 'highest increase'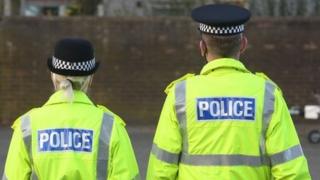 The percentage of crime recorded by Hampshire police has increased more than any other police force in England and Wales, new figures have revealed.
Records in Hampshire are up by 26%, with Cleveland second at 22%, and West Yorkshire third with 19%.
The Office for National Statistics found Hampshire Constabulary increased from 101,458 cases in 2013-2014, to 128,006 in 2014-2015.
The BBC has contacted the force for comment.
The rise in recorded crime in England and Wales is the biggest year-on-year increase since 2001-2002, according to the official statistics.
The figures indicated there were 93,643 sexual offences recorded in England in 2014-2015, a 38% rise compared with the same period in 2013-14.
The survey showed there was a 26% rise in recorded rapes involving a knife or sharp instrument, while possession of a knife or sharp instrument rose by 15%.
The biggest increase in sexual offences was in Hampshire with an 86% rise on the year before.
Meanwhile, Hampshire Constabulary's recorded public order offences went up by 113%.
Of the top 10 police forces with the largest increases in recorded offences, Greater Manchester topped the list in terms of total number of crimes, with 216,005.
England and Wales crime stats
Figures for year ending September 2015
6%
increase in crimes recorded by police in England and Wales
4.3 million offences recorded by police

574 homicides, 71 more than previous year

9% rise in offences involving knives or sharp instruments

4% increase in offences involving firearms
Getty Images