Spitfire celebration flight dropped by organisers after runway use declined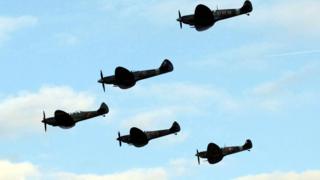 Organisers of a flypast marking the 80th anniversary of the first Spitfire test flight say their event will not go ahead after Southampton Airport refused access to its runway.
Solent Sky Museum's event has seen the Southampton-built fighters take off from the airport and fly over the city every 10 years.
The first re-enactment was in 1976.
The airport said it was organising its own celebrations but did not confirm if there would be a flypast.
'Last opportunity'
Sqn Ldr Alan Jones, of the Solent Sky museum, said: "Southampton Airport Authority have declined to commit the use of the runway.
"The 80th is terribly important as it's the last opportunity to invite those who built the Spitfire to come along."
The museum said an event to honour the aircraft would be held in the museum instead.
Mr Jones said: "Without actually re-creating the first flight off the same runway the dynamic of the event will be sadly changed."
In a statement the airport said its own event would celebrate the anniversary of the flight while "looking at the future and how the Spitfire is still inspiring businesses and young people today".
It added: "Unfortunately due to staff resources and the day-to-day running of a busy airport we can only work with one organisation at a time.
"Therefore on this occasion we are not able to support the plans of Solent Sky although we have worked with them on many occasions in the past and wish them all the best with their plans.
"Further details of our own celebrations will be released shortly."
The plane's first ever flight saw it take off from Eastleigh airfield - now Southampton International Airport - on 5 March, 1936, at 1630 GMT.
More than 20,000 Spitfires were built at the RJ Mitchell Supermarine factory in Woolston.