Southampton's ferry terminal regeneration approved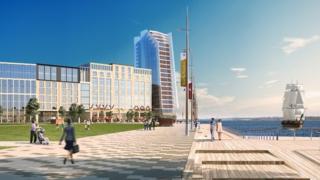 Plans to move ferry terminals in Southampton have been approved by councillors.
The facilities are to be moved from Town Quay to the Eastern Docks to make way for a £450m waterfront development.
The council planning committee voted to approve the plans at a meeting on Tuesday evening.
A four-storey car park and new terminal building is to be built to accommodate ferry services to and from the Isle of Wight.
The council said the relocation of the terminal would bring "significant regeneration benefits" to the city.
All Red Funnel services are to be moved, including the Red Jet passenger and car ferry service as well as the separate Hythe Ferry.
Several people objected to the plans and one person called the car park an "ugly monster" and a "terrible blot on the landscape".
Alan Gordon, who represented residents of Monument Court at the committee meeting, said he had concerns about the "extraordinary large" car park.
"The city does not have much access to the waterfront. This is one of the primary views of Southampton and it will be detrimental to those views."
The new site for the terminal is 7.8 hectares of land and water within the Easter Docks, including Trafalgar Dry Docks.
Once the terminal is moved it will make way for the £450m Royal Pier Waterfront development.
This will include 730 apartments, restaurants, up to 50 shops and a 250-bed hotel.
It will also incorporate a casino, which has been granted a licence by the government for up to 150 slot machines and 30 blackjack and poker tables.
If it goes ahead, construction could start on the first buildings in 2017 with the development completed by 2032.
The plans could see the park space at Mayflower Park made bigger with a Spitfire sculpture in the city where the plane was manufactured.