NHS fined £40k for Fareham mobility scooter death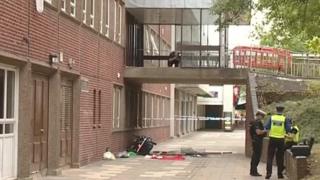 The NHS has been fined £40,000 for lax safety at a site where a pensioner plummeted to his death while riding a mobility scooter.
John Withers, 82, died when he fell nearly 4m (12ft) at a NHS medical centre in Fareham in September 2012.
He crashed through a first-floor, glass-panelled walkway, sustaining fatal head injuries.
The NHS Litigation Authority pleaded guilty to breaching health and safety laws.
Passing sentence at Portsmouth Crown Court, Judge Sarah Munroe said she would not set the fine higher than £40,000 as the process essentially involved one government department paying another.
Charges were brought by the Health and Safety Executive.
An earlier inquest heard evidence that safety barriers on the walkway from which Mr Withers fell had been damaged by white rot decay. The trusts responsible for the site's upkeep at the time no longer exist.
Mr Withers died of head injuries, a post-mortem examination showed, and had not suffered a heart attack or other medical episode.
A verdict of accidental death was recorded.