Southampton family 'distraught' after £71,000 burglary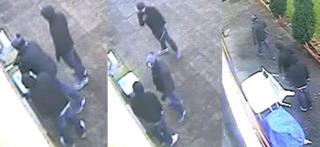 A family from Southampton have spoken of their devastation after gold and money was stolen from their home.
The savings and Asian jewellery in a stolen safe was meant to fund the future care of the family's daughter who has Down's syndrome.
Three burglars were captured on the family's CCTV but have not been caught, despite the burglary taking place before Christmas.
The son of the victims said his mother had "collapsed" at the burglary news.
'Like a tornado'
The burglars broke into the house in St James Park Road in Shirley on 8 December.
They are seen to walk to the rear of the house and force open the door.
Once inside they ransacked the home and took a safe containing £50,000 worth of Asian gold and £21,000 in cash.
They then left in a silver BMW X3 with false plates.
The son, who wishes to remain anonymous, said: "They went through every drawer and broke all the cupboards, it was like a tornado had gone through.
"My mother is absolutely distraught, she pretty much fainted when she found out the safe had been taken."
He said the reason why his parents, in their 60s, had kept the valuables at home and not in a bank was to avoid going through a lengthy probate procedure if something happened to them.
They were keen for their other children to have swift access to the money meant for the care of their daughter with Down's syndrome.
Stephanie Elvin from Hampshire Constabulary said: "A family's life savings have been taken. We need to know who these people are."