Basingstoke Town stadium plan 'threatens wildlife'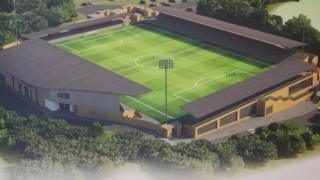 A planned football stadium with a capacity for 5,000 people could threaten wildlife, opponents have said.
Basingstoke Town has been in talks with planners about whether a new stadium could be built on land at Old Common.
Helen Richards, who lives nearby, said of the area: "It's a fantastic place to see wildlife like butterflies and red kites."
The football club said it wants to work with the town to find a "suitable location".
Ms Richards said: "They should find somewhere more suitable for the football stadium.
"I see the benefits of encouraging people to be active but by putting the stadium on the common people would lose exactly those opportunities."
Basingstoke Town said: "We have been in discussions with Basingstoke and Deane Borough Council for over ten years for a suitable location to build a new stadium for the town at no cost to residents.
"The club acknowledge that in recent months there have been cross party private meetings to discuss all of the options that the council can offer and look forward to seeing the report that will be published ahead of the cabinet meeting later this month."
The current Basingstoke Town stadium, The Camrose, is in Western Way.
David Knight, the club's CEO, said: "At the end of the day we will try to provide a stadium not just for the club but for the town as well in a suitable location."
The council declined to comment and a report is due to be published later this month.