Portsmouth sea wall hole repair work delayed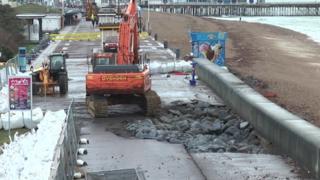 Work to repair a sea wall that collapsed during storms in Portsmouth, has been delayed.
A large void was temporarily plugged with granite boulders after it opened up behind the Pyramids Centre in Southsea on Christmas Day night.
Bad weather has delayed a consignment of rocks being shipped from Cornwall.
Four-hundred and fifty tonnes of rock has already been used to fill the hole and strengthen the sea side of the wall.
Lyall Cairns, of the Eastern Solent Coastal Defence Partnership, said completing the emergency work during the Christmas holiday period had been "incredibly challenging".
The 1,800 tonnes of rock is due to be transported to Shoreham later in the week, from where it will be taken to Portsmouth by road.
Mr Lyall said the work to place the rocks, each weighing up to six tonnes, could take a minimum of three-four weeks.