Ambulance in New Forest gets stuck in floodwater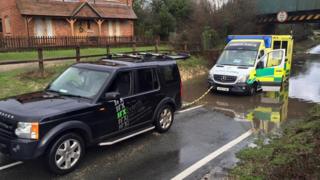 An ambulance had to be towed to safety after becoming stuck in floodwater in the New Forest.
Local resident Joe Hale stopped to help the stricken vehicle on Sunday when it became stranded under a railway bridge between Sway and Brockenhurst.
South Central Ambulance said the paramedics were at the end of their shift and there was no patient on board.
A spokeswoman said: "We would like to thank the Good Samaritan who helped."
'Offered a hand'
A South Central Ambulance spokeswoman confirmed the vehicle had become partly submerged on the B3055 at about 13:45 GMT.
Mr Hale said: "I saw an ambulance in the water, obviously plainly stuck, so I offered a hand and got the tow rope out and just made sure they were OK and pulled them out and stayed with them a little while to make sure they could get their recovery truck there.
"A couple of hours later it was recovered but unfortunately they couldn't get it started."
He added: "I think, if you can help someone in distress - what goes around comes around."
Recent heavy rain has been causing problems across the county - on Sunday afternoon, rail services between Salisbury and Romsey were cancelled because of flooding.
Localised flash flooding also caused problems on the roads, and Netley Marsh Infant School in Southampton was forced to close on Monday.