Portsmouth flood defence wall crack bigger as repairs start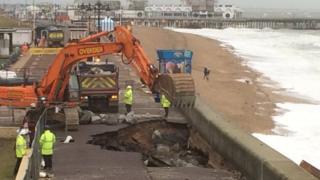 A hole in a sea flood defence wall has got bigger overnight as work to repair the collapsed section gets under way.
Contractors arrived on site earlier to start filling up the void with tonnes of rocks to act as a temporary defence.
The section of promenade has been cordoned off after the crack appeared behind the Pyramids Centre in Southsea, some time between 25 and 26 December.
Council leader Donna Jones said the hole increased in size overnight amid high tides and strong winds.
She tweeted: "Hole has got bigger overnight but the wall still stands! Contractors on site & work has begun!"
Work will take place over two weeks as the hole is filled and 2,000 tonnes of rock delivered.
The crack will cost £250,000 to repair, with the funding expected to come from the Environment Agency.
Ms Jones said the authority had already been working on a multimillion-pound replacement scheme of old sea defences, including this section.