Southsea promenade flood defence wall crack 'bigger'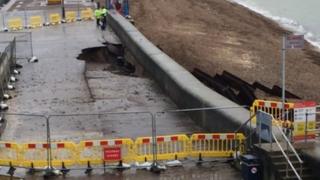 A large crack in a flood defence wall in Portsmouth is getting bigger, the leader of the council has warned.
A section of promenade has been cordoned off after the crack appeared behind the Pyramids Centre in Southsea, some time between 25 and 26 December.
Portsmouth City Council's Donna Jones tweeted that it had "eroded more overnight with the hole getting bigger. The next 24 hours are key."
The council begins rebuilding the wall on Wednesday at 07:00 GMT.
It said it was the earliest the repair work could begin "due to the high tides and strong winds, as well as the availability of machinery and materials". Work will take place over two weeks as the hole is filled and 2,000 tonnes of rock delivered.
The crack will cost £250,000 to repair, with the funding expected to come from the Environment Agency.
Rob New, cabinet member for environment and community safety, said: "Everyone should be aware this area of the esplanade is a very dangerous place at the moment as the defences are structurally unsafe.
"We have put barriers in place to block access to the part of the esplanade affected but we are unable to prevent access via the beach due to the tides."
Ms Jones said the authority had already been working on a multimillion-pound replacement scheme of old sea defences, including this section.