Ben Ainslie supports Solent oyster restoration plans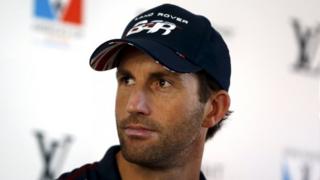 Olympic champion Sir Ben Ainslie and his racing team are supporting a bid to restore oyster fishing off Hampshire.
The practice was banned in 2013 when annual harvests fell from 200 to 20 tonnes, and oysters failed to reproduce.
A series of cages containing adult oysters are being installed at the team's Portsmouth base as part of a repopulation bid.
The project is being led by Blue Marine Foundation.
The consortium's plans, which were recently awarded £75,000, come after a study by Lymington-based MacAlister Elliott and Partners, and funded by MDL Marinas, said several techniques could be used for oyster restoration.
Cages are being fitted on the pontoon at Land Rover Ben Ainslie Racing (BAR) where the team is building its yacht in a bid to win the prestigious race in 2017.
Dr Joanne Preston, from the Institute of Marine Sciences at the University of Portsmouth, which is involved in the project, said: "We can now start collecting the data to gain a better understanding into what is happening to the oysters and the ecosystem around them."
The oysters were provided by the Southern Inshore Fisheries and Conservation Authority (IFCA) and sourced from Portsmouth Harbour before dredging works began in preparation for the arrival of the next generation of Royal Navy aircraft carriers.
Sarah Alexander, from Land Rover BAR, said although it was an "unusual" project for a sailing team to be involved with, "sustainability is an integral part of the team's ethos".