Bramshott bell ringers poised to end two-and-a-half year strike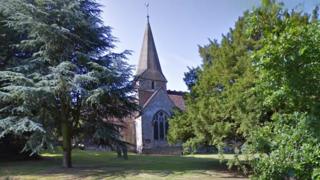 Bell ringers at a Hampshire church have halted a two-and-a-half year boycott over early Sunday service times.
In June 2013, bells at St Mary's in Bramshott fell silent after plans were unveiled to bring forward services from 11:15 to 09:15.
Campanologists said that as the bells were pealed 30 minutes before the service, villagers would be disturbed.
A later service time of 09:30 has now been agreed, which means the bells will ring again, the church warden said.
The church posted a message on its website saying a special communion service would be held on 3 January to mark the return of the bell ringing team.
The bells in the village church were a gift from the widow of Boris Karloff, the actor best known for playing Frankenstein's monster.
He lived in the village until his death in 1969, aged 81.