Portsmouth children's services: Centres facing closure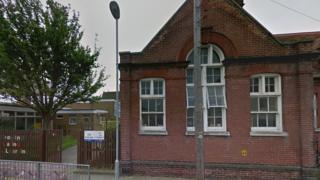 Three children's centres are facing closure as part of budget cuts revealed by Portsmouth City Council.
Families are being urged to take part in a consultation that would determine the location of six new "family hubs" that could replace nine children's centres currently in place.
The council said the proposed changes would not impact services and "help to integrate services better".
Children of all ages would be catered for in existing buildings, it said.
Saving of £221,000
The consultation, which will end on 31 January, is asking families to suggest the best locations for the new hubs, and what additional services would benefit parents and carers.
The director of public health Janet Maxwell said the proposal "is to reduce buildings so that we can protect the support we offer to families in terms of services".
The use of additional facilities including community centres and church halls, as well as in-home support would continue, she added.
Elizabeth Duff, senior policy adviser at National Childbirth Trust (NCT), warned of caution on the new model which it said was "unproven".
She added: "Children's centres offer effective 'one-stop-shops' for parents with young children who need health services, advice, social networks and other support locally.
"While the new family hub scheme aims to offer similar services and more, it is an unproven model. It is essential that good quality local services are available to help parents through the crucial first 1,000 days."
Locations of the "family hubs" suggested are based on current use, coverage and suitability, the council said.
The council said it was working towards a building saving of £221,000.
Portsmouth City Council is trying to find savings of £31m from April 2016 over a three-year period.