'Fantasist' fraudster Cathy Bartlett jailed for trying to burn sister to death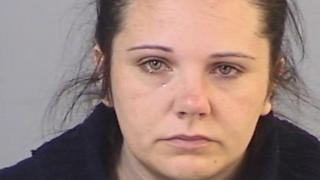 A "fantasist" who tried to kill her sister in a bid to cover up a fraud of £96,000 has been jailed for 25 years.
Cathy Bartlett, 30, from Fawley, Hampshire, was found guilty of fraud and attempted murder following a trial at Winchester Crown Court.
She set fire to a house where her sister was staying after her sibling became suspicious of her activities as her "financial advisor".
Prosecutors said Bartlett used the money to fund a luxury lifestyle.
'You are evil'
The four-week trial heard Bartlett's sister Rachael offered her the job of financial manager at the company she had set up in 2014.
The mother of two went on to steal more than £96,000 from her sister and also £43,000 from her father.
Sentencing her, Judge Jane Miller QC said: "Quite frankly you are evil. You accepted in your evidence your behaviour was cunning, calculating and devious.
"You were completely ruthless, you took as much as you possibly could from your sister and father."
Kate Lewis, senior prosecutor for the Crown Prosecution Service (CPS) Wessex, said Bartlett was living a "fantasy of grandeur" by using the stolen money to live a life of luxury, including spending £20,000 on Southampton Football Club tickets and expensive gifts.
The prosecution said when her sister became suspicious, Bartlett made two failed attempts to kill her - first by setting fire to a mobile home in which her sister had previously been living.
The blaze killed her sister's 14-year-old dog, Jade.
A month later, in April, she set fire to her mother's house in Bartley. The court heard during the arson attempt she also gave her sister sleeping tablets and alcohol in a bid to prevent her from waking.
"Not only did Cathy Bartlett steal her sister's savings, she abused her trust and would have gone as far as killing her in order to protect her fantasy life," Ms Lewis said.