Gas explosion family return to rebuilt home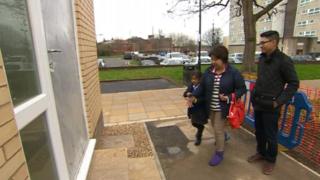 A family pulled alive from the rubble of their house when it was destroyed by a gas explosion have returned home.
The Sabanal family have now collected the keys to their rebuilt property in Shirley, Southampton, more than a year after it was devastated by the blast.
Jay Sabanal, 36, and his four-year-old daughter Bella had to be rescued from the wreckage on 18 November 2014.
He said the disaster is still fresh in their minds, but his family now feels "more safe than before".
Their end-of-terrace house in Howards Grove was completely destroyed, but has now been rebuilt in time for Christmas.
Mr Sabanal's wife Liberty, who was at work at the time of the explosion, said: "We're very pleased. It's all totally changed, it looks different from what we had before and it feels homey as well.
"We can still remember all of it. [My daughter] can still remember every single detail of it. That's why we wanted to change some of the layout."
The Salvation Army and the Filipino Association of Southampton raised funds and collected clothes and toys for the family.