Sebastian's Action Trust respite centre refused in Crowthorne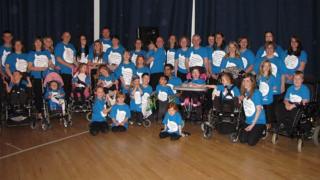 A charity for terminally ill children has had its plans for a new respite centre in Berkshire turned down.
Sebastian's Action Trust hoped to build on the site off West Road in Crowthorne as part of proposals from a developer for more than 100 homes on the land.
Planning committee councillors and local residents had concerns over traffic and a strain on local services.
The trust said it planned to address the issues and submit a second application.
Letters of support
The plans, discussed by Bracknell Forest Council on Thursday, were for 112 homes by Antler Homes - a quarter of which would be affordable housing - plus provision for the family respite, treatment and outreach hub for the charity.
The council said it had received 116 letters supporting the new site for Sebastian's Action Trust.
The charity said the new site was needed as its existing purpose-built respite holiday home, Bluebells in North Waltham, Hampshire, is struggling to cope with demand.
Charity founder Jane Gates, whose nine-year-old son Sebastian died of cancer in 2003, said: "The cost of purchasing a suitable plot of land, let alone construction, in the borough has proven prohibitive until now."
But residents from the Crowthorne Village Action Group and local councillors said the impact on local roads and services would be too great, bearing in mind a proposal for 2,000 homes in nearby Wokingham.
Andy Holley, vice chairman of the group, spoke at the meeting and said no one expressed any opposition to the charity or the respite centre.
He said: "The concern was with the 112 homes which would be in a rural location, cut off from schools and shops and adding traffic onto an already busy road."
Mr Holley added that if a new application was submitted for just the respite centre he would expect there would be little opposition from the community.