Twelve inmates moved after Winchester Prison riot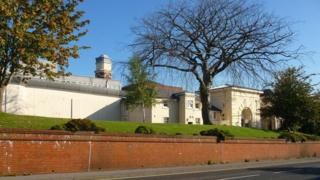 Twelve inmates have been moved from Winchester Prison, following a riot which left six prison staff injured.
The Ministry of Justice (MoJ) said about 20 prisoners were involved in the disturbance on Sunday.
Several members of staff were hurt, with one requiring hospital treatment, the prison service said.
Inmates on B wing are believed to have armed themselves with weapons including tins in socks. What sparked the riot is not known.
A Prison Service spokesperson said: "We do not tolerate violence in our prisons. Those responsible for violence face spending longer behind bars."
The spokesman said the disorder was quickly resolved and a police investigation into the incident was under way.