Roman Cupid ring goes on display in Andover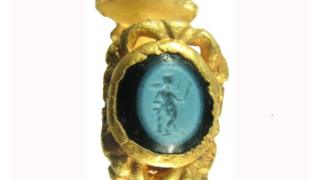 A gold ring appearing to show Cupid the Roman god of love, which was found in a Hampshire field, has gone on display.
The 1,700 year old ring was discovered in a farmer's field near Tangley in 2013 by an amateur metal detector enthusiast.
It has gone on display to the public at Andover Museum.
David Allen of Hampshire Cultural Trust said it was a "very nice piece", probably owned by a high status individual.
The ring, part of which is broken, shows an onyx and blue stone with standing figure, thought to be the Roman god of love.
Mr Allen described the image of Cupid as "rather languid and impious looking".
The ring was recorded by the Portable Antiquities Scheme before being acquired by Hampshire Cultural Trust for display at Andover Museum.
While a Roman road is known to have gone through the area, Mr Allen said the artefact find was "a first" for Tangley.