Search for Portsmouth matted poodle's owners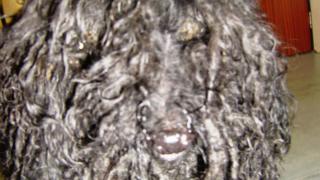 A dog whose fur was so matted that he was unable to see or walk properly has prompted a search for his owners.
The poodle was found by a member of the public wandering the streets in North End, Portsmouth City Council said.
Animal welfare officers said the dog, named Doug, "could hardly hold his head up".
Following extensive treatment from a vet he has been looked after at the council's kennels.
Carol Plumbly, lead kennel assistant at the council, said: "This was one of the worst cases we've ever seen. One of our staff had to go home in tears.
"His fur was so tightly matted it was pinching his skin so he couldn't walk properly."
Vets who treated Doug, said they had to sedate him to clip away his matted fur as the procedure was causing him pain. After the clipping, Doug who is thought to be around nine years old, was given a knitted coat to keep him warm.
The RSPCA said it was working with the council to try to find those responsible.