Swanmore reindeer killing: Owner of 4x4 sought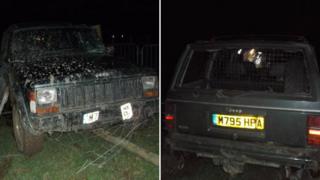 Police are trying to trace the owner of a 4x4 vehicle used by suspected poachers whose dogs killed a reindeer in Hampshire.
A reindeer and a rabbit were killed and another reindeer injured by dogs at Twelve Oaks Farm, a petting farm in Swanmore on Friday night.
A Jeep Cherokee, being pursued by officers, drove through a wooden gate and the occupants fled on foot.
Five dogs, which were running loose on the land, were seized by police.
A reindeer called Comet was killed in the attack and a second, called Candy, suffered severe injuries.
Comet's owner, Emma Thompson, said: "It's devastating. These are our pets, we loved them. I'm heartbroken and angry - I don't know why people would do it."
PC Jon Radcliffe, of Hampshire Constabulary's Country Watch team, said: "We have issued photos of the vehicle that was left behind by the offenders.
"Have you seen this vehicle around prior to Friday night? Do you know anyone who owns a vehicle like this? We seized five lurcher type dogs who were loose on the farm. Do you know who these dogs belong to?"